We may earn money or products from the companies mentioned in this post.
Affiliate Disclosure
Add a hint of drama to your home with these farmhouse sink with decorative front options. If you're tired of smooth, shiny finishes, consider these fun alternatives.
In most cases, fixture selection comes down to material and color. There's already a lot of options, even with just those two choices. However, there not the only two features to choose from.
If you want some different farmhouse sink ideas, consider getting fixtures that have designs on the front.
Here's what you need to know about these fun, bold fixtures:
What is this Fixture??
Having a sink that's there for decoration can seem a bit like an oxymoron. These fixtures are workhorses in any space, so they need to be extremely functional and durable.
But that doesn't mean they have to look plain, or overly industrial. In fact, there are plenty of styles and materials to choose from. Particularly if you're choosing a farmhouse sink.
Farmhouse and apron-front sinks are different from regular sinks in that the face is visible. Normal sinks sit behind your cabinetry, whereas these ones stick out, and can be seen.
It's that visible face that takes on the decorative aspect. With these, you can get all manner of patterns or designs embossed on the front. There are even reversible options!
For a more traditional or country look, go with fluting or scroll work.For something more modern you can get a geometric design, or a simple line pattern. The choice is up to you!
Admittedly, there's not a massive range when it comes to selection. (This type of fixture is gorgeous, but appeals to a very specific buyer.) But there are still a number of styles and colors that you can find.
Chances are, you'll be able to find something that works for your tastes.
What are the Benefits of This Fixture?
This type of sink also has its functional benefits, however, for most buyers, the look is the main appeal. It may seem that having a basic design is a minor difference, but it packs a lot of aesthetic punch.
Think of the size and location of your sink. Due to functional needs, the fixtures are typically placed in a central area. That way they can be seen or accessed from just about anywhere in the kitchen.
They're also fairly large. Most options average from twenty to thirty inches in length. Even when they're behind the cabinets, they're still an obvious, important part of the space.
Because of that, changing them up can make a substantial difference in your design. It's an effective way to transform your space, especially if you're on a budget.
For that reason, it's worth considering if you want an update.
Farmhouse Sink with Decorative Apron
If you're interested in decorative apron front kitchen sinks, here are some basic styles you can choose from. These represent the range of options that are available, although there are plenty more.
Use these styles as a starting point to see if these fixtures are right for you:
The Classics
For a truly classic look, nothing beats fluting. This simple style adds that a touch of traditional charm to any space.
It's also a good starting place for anyone interested in ornate options. The style isn't too dramatic, while still being eye catching.
Fluted Front
As you can see decorative double basin farmhouse sinks style is fairly basic. It's comprised mostly of vertical stripes, that reach to just under the top.
The product above has shallow fluting, which provides a simpler look. This makes it ideal for anyone who leans more towards modern styles.
If you want something more traditional, I would suggest deeper, rounder fluting. This gives it that added touch of charm, which is perfect for traditional designs.
Regardless, this is the ideal option for a number of farmhouse styles. It works well with rustic, modern, and French country looks. If any of those appeal to you, consider this type of fixture.
Ornate Designs
If you like traditional styles, but want something bolder than fluting, try an ornate option instead.
Options like these are embossed with designs that vary in their intricacy. You can get a simple floral or foliage design, or you can go with scroll work. There's a wide range of options, suitable for just about any country design.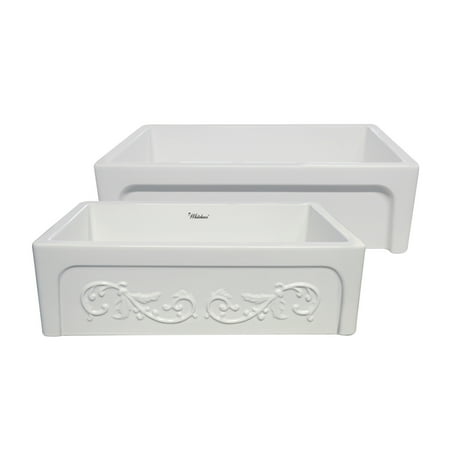 See More at Walmart.com
This product is a good representation of a design that's somewhere in between.
As such, it's the perfect choice for someone who wants something pretty and clean. If your style leans more towards French or Shabby Chic, an option like this is ideal.
With this type of design, you can also go for a wider range of materials. There are ornate options done in copper, if you favor metal fixtures. However, these can get pretty pricey, as copper is one of the most expensive material options.
Modern Looks
Of course, traditional or country looks are not your only two choices. For everyone who likes contemporary or modern looks, there are plenty of options.
Contemporary Front
The small, raised squares on this option make it a great complement for contemporary spaces. If you pair it with stainless steel hardware throughout the space, it will really pop. In fact, you could almost go for a glam look, if that's more to your tastes.
Modern Front
Decorative white farmhouse sinks like this, on the other hand, are purely modern. The sleek finish and clean lines are ideal for even the most modern of tastes.
It's also a good option to add variety to any minimalist space. Minimalism can look boring and plain if it's done wrong. A fixture like this is the perfect way to add just a pop of drama to liven up the space.
Like ornate designs, you can also get modern looks in other materials. You can go with hammered copper or perhaps steel if you want something with an industrial or rustic touch.
Stainless steel is a budget friendly material, so this would be a good choice if you're looking for something cheaper.
The Right Style for You
Luckily, there are plenty of options when it comes to sinks with designs on front. Even with a basic choice, like fluting, there's enough variation that you can find the ideal choice for your preferences.
There are also multiple materials to choose from. Although most options will be done in composite or Fireclay, you can get certain styles in stainless or copper as well.
No matter your tastes or budget, there are plenty of farmhouse sink with decorative front options to suit.