We may earn money or products from the companies mentioned in this post.
Affiliate Disclosure
Get something gorgeous and durable with these white porcelain farmhouse kitchen sink options. These quality fixtures make an elegant, functional addition to any space.
Why This Material Works
There's a reason porcelain has been prized for centuries. If you purchase a sink made of this material, there are plenty of benefits you can expect.
If you want to learn more about what makes porcelain great, check out these benefits:
Durability
Although this material is most often found in delicate tableware or decorative pieces, it's actually quite durable.
In fact, fixtures made of this material can last thirty years or more, when properly cared for. They're similar to cast iron, in that sense.
Of course, it's important to make a distinction between the base and the exterior of these fixtures. In most cases, products made from this material are coated in enamel. This is what gives them their color and makes them shiny.
Unfortunately, enamel does tend to stain and chip if not maintained properly.
But even if that happens, there's and easy solution. You just have to send you fixture to be refinished. You can even do it yourself if you want!
The process removes the exterior coating and replaces it, giving you what is essentially a brand-new fixture. Best of all, you don't have to fuss with the process and price tag associated with buying a replacement.
If you want a different color, or just want an update, all you have to do is replace the outside coating.
That particular features makes this one of the most convenient, long lasting options available.
Versatility
The aesthetic value of this product is in the sheer range of options. Whatever your preference for color or style, you're likely to find an option to match.
Because it's coated, you can find many more colors than you can with other materials. Stone and metal in particular, tend to be very limited.
Of course, you can go with materials like composite or fireclay, if color is purely what you're after. These also tend to be coated, so they have a wide color selection.
However, on the whole porcelain is considered to have a superior aesthetic value.
Functionality
Another benefit of this material is that it dampens sound.
Admittedly, this is a small benefit, but it does make a difference. If you're used to using a metal sink, you know that washing dishes can be a loud prospect. Things tend to clang around no matter how careful you are.
Porcelain and similar materials are usually thicker, which allows them to absorb more of the sound. As such, washing dishes becomes a slightly more peaceful prospect.
Downsides of This Material
Even great materials like this one are not without faults. The main issue with this material is the upkeep.
As previously mentioned, the enamel coating is prone to chips and stains. This means you'll have to treat it with extra care.
One easy preventative measure to take is to purchase a sink grid. These grids act as a barrier between the basin and the dishes. It's an extra layer of protection in case you drop or spill something.
The other option is the regularly clean the basin. If you make sure it's clear of food debris at the end of each day, it will be less likely to develop stains.
Should a stain develop, they're fairly easy to remove if you know what you're doing.
With proper maintenance, you can keep your fixture looking good for longer.
Classic Elegance
If you're interested in this material, here's a classic looking option to consider: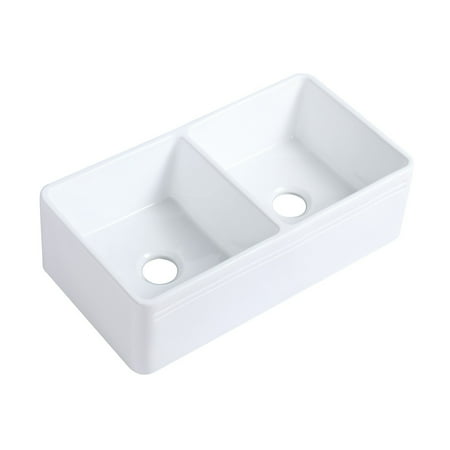 See More at Walmart.com
This budget friendly option is the perfect way to incorporate this material without breaking the bank. While porcelain can certainly get expensive, options like this one allow you to have it at a more accessible price.
The versatility of this material is also reflected in this option. With its sleek, rounded apron, it's easy to incorporate into just about any space.
The stripes in particular, are a charming touch. They're perfect for country designs, or any other variation of farmhouse style.
It's also worth noting that this is a double basin option. This allows for more organization when washing, so it's good if you want something more functional.
Is This Material Right for You?
If you're on the fence about this material, that's okay. It's difficult to choose fixtures knowing that you'll potentially have to live with them for years.
The main determining factor for this material, is whether or not you can maintain it. If you can be responsible and clean it regularly, then this is a great choice. It has plenty of benefits that you're sure to enjoy and appreciate.
But not everyone can spend the time and effort necessary to look after their fixtures. If you need something more low-maintenance, stainless steel is definitely a better option.
It won't have the same look, but it requires very little effort to maintain.
Price is also an important factor. This material is among the more expensive, but options like the ones above make it more affordable.
If you're interested in something cheaper, a budget friendly metal option would be better. You can also look at Fireclay sinks, however, you won't be saving as much money.
Once you've settled those considerations, you'll be able to determine if this material is the right one for you.
Your Ideal Fixture
All things considered, it's hard to go wrong with the classics. If you're looking to upgrade or renovate your space, don't skimp on fixtures.
A white porcelain farmhouse kitchen sink is one great option to add some classical elegance to your space.