We may earn money or products from the companies mentioned in this post.
Affiliate Disclosure
Check out these cheap farmhouse sink options. No matter what your budget, you can find an inexpensive fixture that will work for your kitchen.
You can be forgiven for thinking that farmhouse sinks are too much for your renovation budget.
Everyone knows that there are ridiculously expensive options out there. Some are well over a thousand dollars, just for the basin! That doesn't even include any other things you'll need to purchase, like drains and a matching faucet.
But before you give up hope, you should know that these options are expensive because of their materials. Apron front fixtures on their own, are actually quite accessible. You just need to know what materials will help you get the look you want, at the right price.
Budget Friendly Options
If you're on a tight budget, here are some great materials to consider.
These two materials allow you to have a lower cost, without sacrificing durability or aesthetics. That means you're getting the best deal possible.
Metal
Metal is the ideal budget friendly option because you're getting quality for less. As a material, metal has a ton of great benefits, and it's durable. In terms of cost effectiveness, it's really hard to beat.
The only downside to this material is the lack of variation. With some exception, you'll be getting the same color and design, regardless of your purchase. There are some colorful options, like matte black or bronze, but they may be more expensive.
For some plain but cheap options, here are some great products:
Fixture and Accessories Set
Sarlai
This option comes with not only the fixture, but a matching drain, drying rack, and grid. Considering the size and the price, it's an excellent deal.
Buying a fixture that comes with its own accessories is one way to save money. The other benefit of sets like these is that they help you avoid having to find matching accessories. With these, everything is properly sized and in the right color.
There are other great features on this option, such as the thickness of the metal, and the added padding. Overall, it's an excellent value, and a hard set to beat.
Double Basin Option
Lordear
If you prefer a more conventional style, get a double basin fixture like this one.
Most apron-front or farmhouse styles fixtures only have one basin. It's one of the distinguishing features of the style.
But having a single basin isn't always preferable. For many homeowners, a double basin fixture is just the standard. It allows for more organization, as well as two separate drains.
That's where double basin options like this one come in. They have the same, trendy aesthetic, just with a more conventional drain set up.
Workstation Fixtures
Bokaiya
For anyone who does a lot of work in the kitchen, a functional option like this one is a great choice. Workstation fixtures are nice because they come with a lot of useful additions.
In this case, you're getting a drying rack, cutting board, and strainer. That makes food prep infinitely easier, since you're doing everything right over the basin. It's also convenient if you're lacking counter space.
The accessories themselves are also easy to remove and position. They sit on a lip above the basin, so you can easily remove them if they're getting in your way.
This option in particular also comes with a drain set-up and grid, so it's a great deal.
Large Options
Logmey
If you're buying this type of fixture for the large basin in particular, this one is a good option. It comes in 33 inches and larger, so you should be able to find something big enough.
The main downside to this option is that it's got a higher gauge. This means that the metal is a bit thinner.
This can be helpful since it makes the fixture lighter, but it's also less durable. If you want a similar size with a lower gauge, the first product listed here is a better choice.
Fireclay
Fireclay is the ideal material if you're a fan of country or traditional styles. These fixtures have that classic farm look, without the high cost of porcelain or cast iron.
The material itself doesn't have the same reputation for durability that stainless does. It's also at greater risk of staining, when it has lighter colors. However, it's still a functional option that works well when properly cared for.
It's also the best option if you want that classic, farmhouse look for less.
Plain
Magnus Sinks
For a plain, classic style, go with this option.
It's got a smooth, flat face on all sides, which makes it perfect for modern spaces. If you don't really want to take a risk with colors or designs, this is the perfect choice.
Reversible Option
Koozzo
For saving money, reversible options are a great choice. With these, you're getting two different designs for the cost of one.
In this case, you're getting a classic, flat apron, and an apron with a casement on it. The casement design is just a fancy way of saying that part of the apron is recessed. This gives it more of a carved, decorative appearance, that's perfect for fans of traditional style designs.
It is a subtle design though. If you're after something bolder, there are tons of different reversible front fixtures, some with more decorative aprons.
Reversible Accessories Set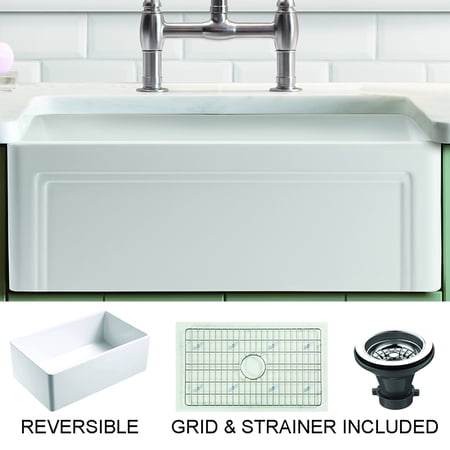 See More at Walmart.com
This is another reversible option that comes with a flat apron and a casement apron. What sets this on apart is that it has its own, matching accessories. For fireclay options, that's not as common.
The important item for this set is the grid. With white basins, you have to be extra careful not to leave food waste in the basin, since this can lead to discoloration.
The grid keeps any dishes away from the surface of the basin, which makes keeping the basin clean easier. All you have to do is rinse away any food waste.
This is important if you want to preserve the appearance of your fixture for as long as possible. Check out our cleaning guide, or stain guide, to find out more tips on how to prevent and remove discoloration.
Other Ways to Save Money
The options above are perfect if you're on a tight budget, but they're not the only way to save money. Even if you're going with a more expensive option, there are a few things you can do to save a couple extra dollars.
If you're looking to go cheap with your fixtures, there are a few little tricks to know.
Go Smaller
Obviously smaller basins are cheaper, since they use less materials. If there's a sink option you really love, see if you can get it in a smaller size. The price difference can sometimes be as much as forty or fifty dollars, so it's worth the effort.
However, the most cost-effective option is always to get a sink the same size as your current one. That's because you won't have to spend money to get your counters cut, etc.
Get a Set with Accessories
As mentioned with a few of the products above, buying a set is a good way to save money.
A lot of people buy fixtures without realizing that they'll probably need a new drain set-up to match. It's also a good idea to purchase functional accessories, such as basin grids.
While these items aren't that expensive, they're still an additional purchase to consider. You'll also have to fuss with buying ones that are properly sized.
Overall, getting a set is just the easier choice.
Go for a Single Basin
In general, single basin options are cheaper than double basin options. This is because they require less material, and are generally easier to manufacture.
The downside to these is that they allow for less organization. However, you can still purchase things like basin or divider inserts to help separate your dishes.
But while these options can save you money upfront, you may encounter costs during installation. This leads to the next tip, which is…
Consider Installation Costs
There are a ton of factors that can impact your installation costs:
Sink Weight
Sink Size
Drain Placement
Installation Type
Number of Basins
And these are just a few. Save yourself money by doing your research before you commit.
Luckily, a lot of options do come with free installation. Check with the seller to see if that's possible, or what exactly that service covers.
If you're not getting free installation, then consider the issues mentioned above. The cheapest installation is the one that requires the least amount of work.
To that end, try to find something that matches the dimensions and general features of your current fixture. It also helps to consider drop-in options, which allow for easier and cheaper installation.
Fixtures for Any Budget
Finding less expensive fixtures doesn't have to be difficult. You just need to know what you're looking for.
The material is the main feature that will influence cost. Thankfully, with these fixtures, there are a variety of budget friendly and functional materials. With these, you're not sacrificing quality, even though you're paying less.
That's what makes cheap farmhouse sinks a smart and accessible purchase.